Review
Rope'N'Fly 2 app Review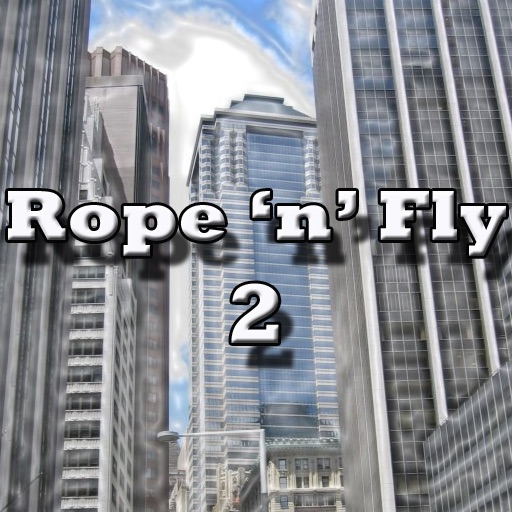 Rope'N'Fly 2 app for the iPhone is a great game app.  You swing a destructible ragdoll on your ropes from one skyscraper to another.  You are the one in control of your ropes as you touch a tower to throw your rope there, and then release the rope by touching it again.  Fly through the sky by using your acceleration.  Once you get back near the ground, touch to attach your rope before you hit the ground and crash and burn. Rope'N'Fly 2 Full Version has most of the features that customers requested.  You will love the fast paced, tight game play.  See how far you can get before you fall.
This great iPhone app brings you endless playing with the improved graphics, including 3D buildings.  The music and sound effects add the the fun of this game app.  The ragdoll doesn't just splinter apart, now it depends on how hard you touch the ground – you might just lose a leg.  The integrated online leader board is a great way to compare your scores against those of your friends and other players all across the country.  This version of the Rope'N'Fly 2 app includes lots of fun achievements you can unlock as you get points.  For instance, you can unlock achievements for air style, the highest or longest jump, a head crash, half-man, longest flight, and many more.
Features:
Never ending cities for endless playing
Vienna is the first fixed city
All game modes can be played in either the fixed or random cities
3D building and improved graphics
Multi-user support
Online leader board and high score system
Destructible ragdoll effects, but now the ragdoll is also partially destructible
Realistic physics for both the ropes and the player
Sound effects and music including new music from RunStickRun
Music can be changed in the option menu
Exciting new game modes bring the total to 12
33 achievements you can unlock by getting points
Tight game play
Dynamic changing weather effects in realtime (thunder, rain, etc.)
OpenFeint integration
Personal highscore while offline using Open Feint
Overall:
Rope'N'Fly 2 is a great game app.  Since there were lots of suggestions with the older versions, the new update 3.o has incorporated many of these and it is now so much better and even more fun!  Swinging around random or fixed cities using the realistic physics engines make this a great ragdoll game app. Rope'N'Fly 2 has been rated 3.5 out of 5 stars and is  currently selling for half price for a few more days at only $0.99.